Medvantx Technology Innovations
At Medvantx, we acknowledge the importance of technology in how it safeguards dispensing accuracy in several ways. We identify the stages of the process to zero in on, and articulate levels of verification enabled by technology.
Electronic Prescribing
The ability of a prescriber to electronically transmit a precise, error-free, and intelligible prescription straight to a pharmacy from the point-of-care is known as e-prescribing and is a key factor in raising the standard of patient care. At Medvantx, we adapt Electronic Prescribing to patient assistance programs using seamless integrated workflow tools and queues that greatly reduce processing time while increasing quality control.
Manifesting Process Upgrades
We have also made improvements in end-to-end dispensing accuracy. What was a standard single scan to print the carrier label, has been upgraded to a triple scan process to ensure packing quality and shipping accuracy.  These system alerts, safety cap flags, bar coding and scanning, drug images and imprints, and configurable Rx and dispense verification screens provide maximum patient safeguards – and protect your business from potentially critical and costly errors.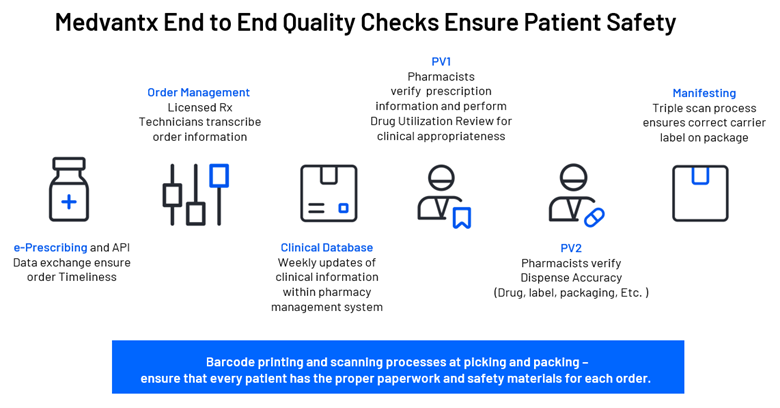 Here at Medvantx, we are always improving our procedures using technology innovations. We are dedicated to advancing the quality of prescription services nationwide.