Why Invest in Direct-to-Patient?
The pharmaceutical industry is changing by the minute. Regulations and restrictions are constantly evolving, generics await the expiration of every patent, and with its purchase of PillPack (and its pharmacy licenses in all 50 US states), Amazon has officially entered the industry.
These industry changes are largely driven by two paradigmatic shifts. The first is the healthcare industry's move to more patient-centric models of care. Patients today have more choice than ever and value-based care means that patient satisfaction and health outcomes matter. The second shift at hand is the larger consumer marketplace transition to a frictionless economy.
Consumers today expect nothing less than a frictionless experience. The time it takes to realize a need, find a product to fulfill that need, and purchase that product has been reduced to seconds. The subsequent time it takes to have that product materialize on one's doorstep without ever leaving home is now measured in minutes. Any area of friction within the customer journey risks the customer going elsewhere for their purchase.
The frictionless economy is a generational shift that will define the buying practices of tomorrow's customers. The trend is only going to accelerate in the years to come. How can pharmaceutical manufacturers hope to survive in a new era of pharmacy where patients expect their prescriptions to be filled and delivered direct to their home in just hours? With independent direct-to-patient solutions.
Direct-to-patient is how tomorrow's pharmaceutical brands will connect with the patients who need their medications. Efficiently, immediately, personally. Let's take a look at what a direct-to-patient platform includes and why manufacturers would be wise to invest in one.
What is Direct-to-Patient?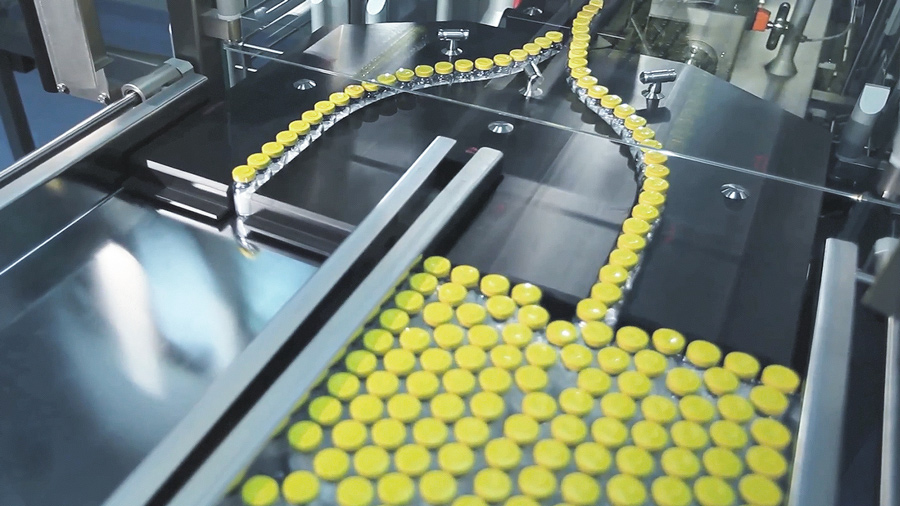 The traditional pharmacy supply chain is rife with complexities, intermediaries, and inefficiencies. From loss of exclusivity to formulary exclusion, pharmaceutical manufacturers are subject to the whims of forces beyond their control when trying to get their products into the hands of patients who need them.
Direct-to-patient (DTP) offers manufacturers an alternative to the traditional supply chain. Leveraging e-commerce technology, anticipatory pharmacy services, and fulfillment solutions that include innovative final-mile technology, DTP collapses the supply chain and enables manufacturers to connect with patients directly.
These three components—e-commerce, pharmacy, and fulfillment—are the foundation of a direct-to-patient platform. When fully integrated and powered by the right logistics partner, they can give manufacturers the power to reach patients anywhere in just hours.
1. E-Commerce
E-commerce solutions include everything from strategic marketing that builds product awareness to UX-driven websites that maximize conversion. These elements are designed to boost brand awareness and amplify customer engagement with powerful strategies dedicated to online sales.
2. Pharmacy
Pharmacy services are an essential part of any direct-to-patient platform. They enable you to streamline patient engagement, reimbursement, and reporting with nationwide reach. Fully automated and streamlined by anticipatory logistics, direct-to-patient pharmacy services are an alternative to the fragmented and overly complex traditional pharmacy process.
3. Fulfillment
The final piece to the direct-to-patient puzzle is fulfillment. A fully integrated component of a direct-to-patient platform, fulfillment solutions give manufacturers the power to reach patients faster with anticipatory logistics, home delivery, and final mile services.
Why Invest in Direct-to-Patient?
From reaching patients faster and more efficiently to overcoming the challenges of loss of exclusivity or an NDC block, there's no shortage of reasons why direct-to-patient is a great investment for pharmaceutical manufacturers. Let's look a little more closely at some of DTP's most valuable benefits.
A direct-to-patient program can help you…
Reach Patients Faster
A dedicated direct-to-patient platform lets you reach more patients faster and grow your market share. By taking control over the supply chain and eliminating costly and inefficient middlemen, DTP can help you get products into patients' hands in a quick, seamless, and customer-friendly way.
Improve Abandonment and Adherence
Studies have shown that fully a third of all new prescriptions written by physicians for the treatment of patients with chronic diseases are never filled. The research says that much of this abandonment rate can be attributed to the byzantine complexity and inconvenience of today's pharmacy process. Fueled by the convenience of e-commerce and innovative final mile solutions, direct-to-patient eliminates the hassle of the traditional supply chain, addressing the problem of abandonment and adherence at its root.
Take Back Control Post-LOE
Loss of exclusivity (LOE) doesn't have to be the end of the line for brand drugs and the patients that rely on them for improved quality of life. A direct-to-patient program lets manufacturer take back control over access to their products post-LOE. Manufacturers continue to generate revenue post-LOE and patients enjoy convenient, reliable access to the medication they need.
Give Patients the Power of Choice
A direct-to-patient platform gives you the power to support brand-loyal patients who want continued access to your product after it's been blocked by a formulary or stymied by generic alternatives. Patients enjoy convenient, reliable access to the medication they need, and manufacturers continue to generate revenue. It's a win-win solution.
Compete in the Era of Online Pharmacy
Consumers have come to expect frictionless e-commerce and fast, free delivery for nearly everything they buy. This increasingly includes their prescriptions. Direct-to-patient gives manufacturers an independent way to compete in an online marketplace that gets evermore crowded with pseudo-pharmacies and telehealth brands offering rebranded generics and convenient e-commerce experiences.
Leverage Brand Equity
The rebranded generics offered by the growing crop of online pseudo-pharmacies and telehealth brands represent a real threat to manufacturers, but within that threat exists a valuable opportunity. Manufacturers, after all, have one thing that new companies don't have: brand equity. And brand equity is a powerful thing. Direct-to-patient lets manufacturers leverage their brand equity with tools to engage and serve brand-loyal patients directly.
Improve Patient Experience
Direct-to-patient offers patients the same prescriptions they used to get by way of a complex and inconvenient traditional pharmacy process through a branded customer experience meticulously designed for utmost convenience. Smart checkout technology and easy payment options are optimized for mobile, enabling patients to fill their prescriptions on the go, while custom packaging ensures patient delight the moment their medication arrives.
Is Direct-to-Patient Right for My Brand?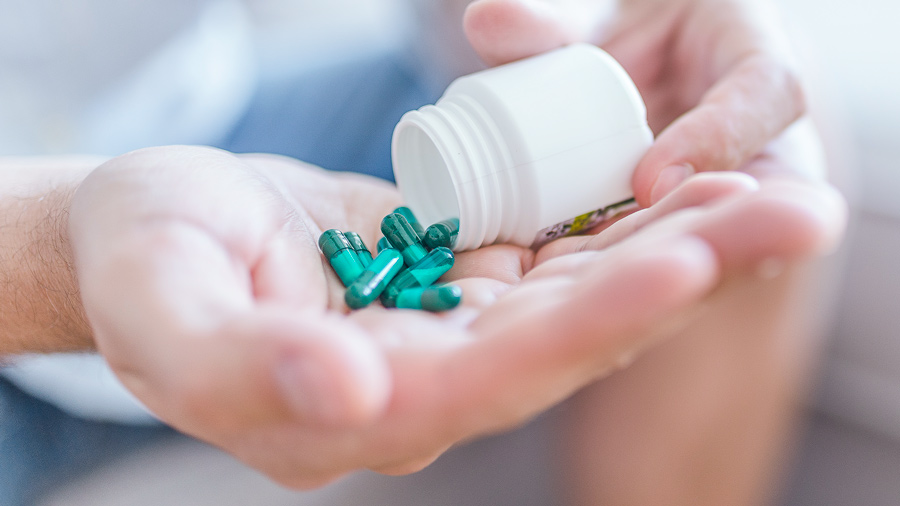 How can you know if a direct-to-patient program is right for your product? There are many scenarios where DTP is a good fit. The following are a couple of the most common:
Your Drug Has Been Blocked by a Formulary
You've found out that your product has landed on a formulary exclusion list. Do you have a plan in place for getting the drug to patients who need it? A direct-to-patient program can let you skip the formulary and connect with brand-loyal patients directly. It's a reliable alternative to an increasingly unreliable traditional supply chain. Direct-to-patient is helping pharmaceutical manufacturers overcome the challenge of NDC blocks.
Your Drug is Facing Loss of Exclusivity
According to the a recent survey, $8.3 billion of small molecule sales were at risk due to loss of exclusivity in 2018. LOE may be inevitable, but it no longer has to mean such a catastrophic loss of revenue for drug companies. Direct-to-patient gives you the power to support brand-loyal patients who want continued access to your brand medication. Continued patient access means continued revenue post-LOE.
The Takeaway
Driven by e-commerce, streamlined by anticipatory pharmacy, and delivered by innovative fulfillment solutions, a fully integrated direct-to-patient platform is a powerful, independent way for pharmaceutical manufacturers to leverage brand loyalty in a new industry paradigm defined by patient choice and frictionless commerce.
Direct-to-patient lets manufacturers take control back from drug formularies and competing generics, and offer patients a new way to access the medications they know and trust. Why invest in direct-to-patient? In a consumer landscape that changes by the day and becomes increasingly unaccommodating to the traditional pharmacy supply chain, the real question seems to be, why wouldn't manufacturers invest in an innovative, independent solution?
Reach Patients Faster
Our direct-to-patient platform collapses the supply chain and brings manufacturers closer to patients. Contact us today to see how we can help you reach patients faster.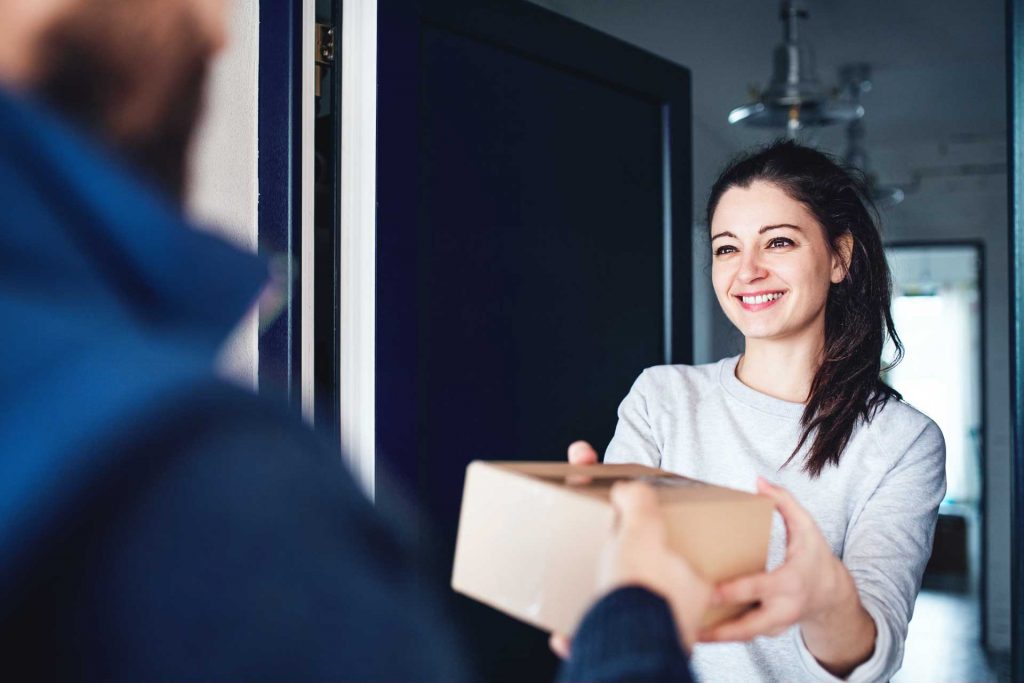 About Us
At Medvantx, we give pharmaceutical brands a better way to connect with patients who need them: directly and immediately.That's how we're Redefining Pharmacy.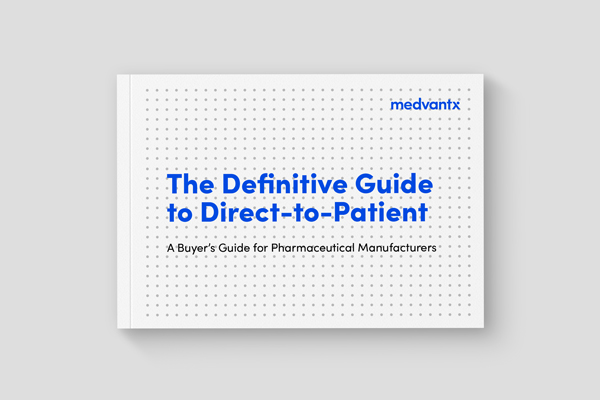 The Definitive Guide to Direct-to-Patient
Everything pharmaceutical manufacturers need to know about direct-to-patient channels.