The Amazon Pharma Threat
Amazon has entered the pharmacy business.
After years of increasing speculation, the company finally made it official by acquiring PillPack, a relatively new niche player in the mail-order and adherence packaging space, for a reported $1 billion in June of 2019. With the purchase, Amazon has acquired pharmacy licenses in all 50 U.S. states.
While the company was already actively supplying products to hospitals and healthcare facilities and recently announced a partnership with Berkshire Hathaway and JP Morgan Chase to manage employee healthcare costs, Amazon's acquisition of PillPack suggests it has its sights set on becoming a significant player in the half-a-trillion-dollar U.S. pharmaceutical industry.
What does Amazon's entry into the pharmacy space mean for pharmaceutical manufacturers and traditional supply and value chain providers?
If its approach to other industries is any indication, Amazon will change the way consumers access pharmacy care and collapse the supply chain in the future.
The question for manufacturers and the industry at large is, what now? Embrace Amazon? Or build, buy or partner to develop an e-commerce-based direct-to-patient platform of their own?
With PillPack, Amazon has acquired pharmacy licenses in 49 states
85% of Amazon Prime's 100M members say they'd buy drugs from Amazon
Inefficiencies & rebates currently consume $94/brand drug
HHS Secretary Azar has threatened to eliminate rebates entirely
Amazon's access to consumer data will redefine marketing & retail
The Prime algorithm could replace PBMs & retailers altogether
Consolidate or Innovate?
Amazon's impact on the pharmaceutical industry was nearly instantaneous, as wholesalers, distributers, PBMs, insurers, and retailers lost over $20 billion in market capitalization on the day of the announcement.
As has typically been the case in industries "disrupted" by Amazon, many of the legacy players in the pharmacy value chain decided to consolidate rather than innovate in the face of the news. Anxiety over Amazon's entry was widely assumed to be a contributing factor in CVS Health's bid to buy Aetna and Cigna's shareholders voting to support its pending acquisition of Express Scripts, just to name a few.
This recent spate of mega-mergers of wholesalers, retailers, PBMs and payors was a predictable reaction, but does little to actually solve the challenges presented by Amazon's entry. Mergers and acquisitions do nothing to create new, sustainable competitive advantages; they merely double down on existing market forces.
Companies that have withstood the Amazon threat in other industries are those that have turned to innovation, not consolidation, as a strategy.
The Amazon Effect: Prescription Medications
Changes to prescription medication formularies have been well underway for years, as varying levels of co-pay tiers continue to evolve into exclusion lists. Drug formulary exclusion lists have increased by nearly 160 percent since 2014, according to a recent Doctor-Patient Rights Partnership report. In 2014, there were 132 treatments on CVS Pharmacy's and Express Scripts' combined drug formulary exclusion lists. In 2018, that number has grown to 344.
As a result, pharmaceutical manufacturers can no longer rely on payor and PBM rebate strategies to create access to, or a more level playing field for, their products. As part of the Trump administration's plan to lower prescription medicine costs, U.S. Health and Human Services Secretary Alex Azar recently stated that it was within his agency's power to actually eliminate rebates on prescription drug purchases altogether.
With rebates threatened, pharmacy retailers owned or controlled by payors can be expected to take formulary exclusion to its logical conclusion—no longer even stocking non-formulary products in their pharmacies. The impact of this change would ripple backward up the supply chain, and manufacturers could find themselves without access to any large U.S. channels of distribution for their products.
While legacy providers battle it out for an increasingly smaller piece of the pie, Amazon could replace the concept of formularies, tiers, and rebates all together with its Prime software algorithm, favoring generic conversion over branded medications.
Pharmaceutical companies that have invested billions of dollars into drug discovery and branding would find themselves commoditized as consumers look to Amazon for their medications along with everything else. Check-out baskets would begin to fill with private label Amazon Prime brand of generic pharmaceuticals.
The Amazon Effect: A New Retail Model
Amazon's impact on traditional brick-and-mortal channels is well known: the Amazon Effect. The Amazon Effect has led consumers to expect an almost completely frictionless shopping experience with near-immediate results.
Traditional retail stores and independent pharmacies are already rapidly disappearing, replaced by large chain drug stores as payor pharmacy networks become increasingly narrow and restrictive. Aetna members, for example, might soon only be allowed to purchase medications from CVS stores.
With its massive marketplace business model and use of e-commerce vs brick-and-mortar, Amazon has demonstrated a unique ability to drive manufactures into fully commoditized marketplaces and to reach consumers upstream in the value chain.
Amazon's ability to collect information about patients will further forever change the prescription medication marketing mix. The company could use data, for instance, to target ads for self-help books at patients filling prescriptions for anti-depressants.
With its Whole Foods locations and Alexa voice command system, Amazon has a multifaceted arsenal to upsell pharmacy customers and cross-promote products. In his annual letter to shareholders, Amazon CEO Jeff Bezos recently revealed the company has more than 100 million Prime members. And according to a recent study, the vast majority of Prime members who also have health insurance said they would be willing to purchase prescription drugs from Amazon online.
No fewer than 85 percent of insured Prime members told Deutsche Bank they would be comfortable buying drugs straight from Amazon.com.
With the recent PillPack acquisition, Amazon now also has the pharmacy licensure and infrastructure to begin to disrupt the cash-pay prescription business. Prescriptions purchased by the uninsured and underinsured population represent an invaluable opportunity for competitive pricing in each of the 49 U.S. states where Amazon now has a license to ship medications.
The traditional distinctions between prescription assistance, free trial, and direct-to-patient programs will only continue to blur as consumer engagement platforms shift from traditional to more e-commerce enabled approaches.
A System Ripe for Change
Apart from the mergers and acquisitions in the value chain, many have viewed Amazon's entry into the pharmacy industry with only tempered concern. Certainly, Amazon represents a theoretical threat to the industry status quo, but immovable forces like market share consolidation among major PBMs will mean the company's growth will be kept in check.
Healthcare is complex and different. Right?
The reality is that seemingly immovable forces have never stopped Amazon in the past. The company has a history of starting small in the industries it enters, testing the market and fine-tuning its services, before launching full-fledged commercial operations.
Kaiser Health News found that redundancies, inefficiencies and rebates in the pharmacy supply chain consume approximately 31 percent or up to $94 within the average branded medication.
In the past, Amazon has disrupted vertical industries where the margin compression opportunities were measured in basis points, not hundreds of dollars per order. The question isn't whether they will be successful in healthcare, but why buy a niche start up vs larger platform? And what took them so long?
Its puzzling entry strategy does not preclude Amazon from someday leveraging its unparalleled brand loyalty and massive e-commerce infrastructure to cut out PBMs and retailers altogether and simply sell product online for cash. Why fight against an entrenched, antiquated system when you can just build your own?
As rebates no longer work—or disappear altogether—and chain drug continues to narrow, the system is increasingly ripe for change.
The Road Ahead
While it is certainly the most widely publicized, Amazon's entry into the healthcare and pharmacy marketplace is really just the latest development in the rapidly changing landscape of the pharmaceutical industry. Changing industry fundamentals have been driven by the shift to a more consumer centric model, and that trend is certainly only going to accelerate.
If manufacturers are commoditized by an algorithm-driven e-commerce model, they can expect to be forced into reverse auctions to compete exclusively on price in a race to the bottom (also known as the Amazon Marketplace).
As it has shown in nearly every industry it has entered, Amazon's platform is unique in that brands either use it or they die. Like many retail brands before them, pharmaceutical manufacturers risk losing their independence in the new Amazon pharmacy marketplace model as they lose control of their brands.
As they look toward the future, manufacturers will need new and independent direct-to-patient platforms powered by e-commerce technology, anticipatory logistics, and innovative final-mile solutions if they are to survive in this new industry paradigm. They will need ways to move the pharmacy process upstream in the value chain so that it is as close to the consumer as possible.
In the new era of pharmacy, manufacturers will need a solution to the fragmented and overly complex pharmacy process that is fully automated and streamlined by e-commerce technology, so that what is now measured in days can be measured in mere hours.
What manufacturers need is independent, integrated direct-to-patient solutions.
Reach Patients Faster
Our direct-to-patient platform collapses the supply chain and brings manufacturers closer to patients. Contact us today to see how we can help you reach patients faster.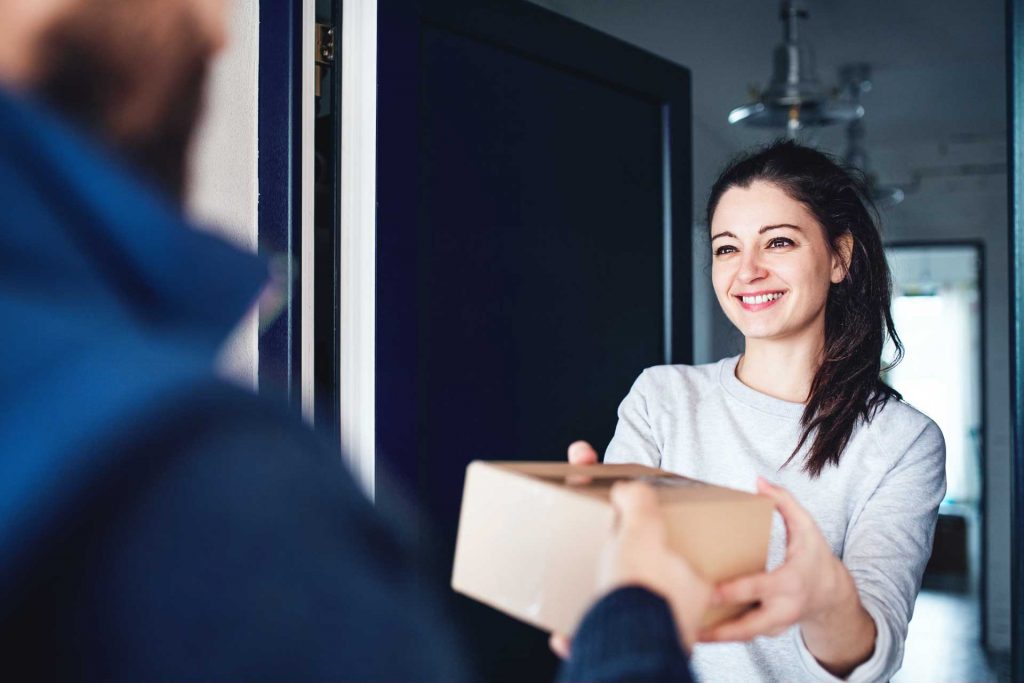 About Us
At Medvantx, we give pharmaceutical brands a better way to connect with patients who need them: directly and immediately.That's how we're Redefining Pharmacy.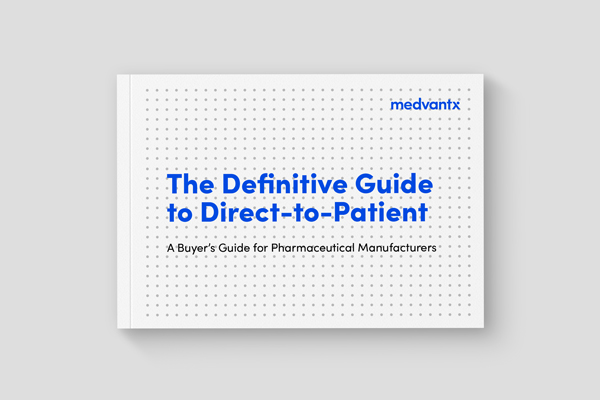 The Definitive Guide to Direct-to-Patient
Everything pharmaceutical manufacturers need to know about direct-to-patient channels.